initiatives
Initiatives regarding
health management
We aim to make the workplace healthy,
comfortable, and employee-friendly,
such that each member can achieve a work-life balance and
feel fulfilled in their work.
We aim to be a company that balances social problem solving and growth.
We will include "workstyle innovation" as an issue in the company's 10-year plan, and as a concrete measure, we will practice health management according to the following policy.
Alps Pharmaceutical Ind. Co.,Ltd. Health management policy
As a firm engaged in the health sector, we recognize our responsibility to create a foundation for the health of each of our employees, and creating a workplace where diverse people can all feel at ease working for the long term. To that end, we pursue a tripartite system of health maintenance and preservation, mental health measures, and work-style reforms to contribute to the healthy growth of the company.
Activities for health maintenance and improvement
We pursue employee health maintenance and offer more opportunities for physical fitness, as well as call for smoking cessation. In this way, we are creating a workplace that encourages employees to look after their health.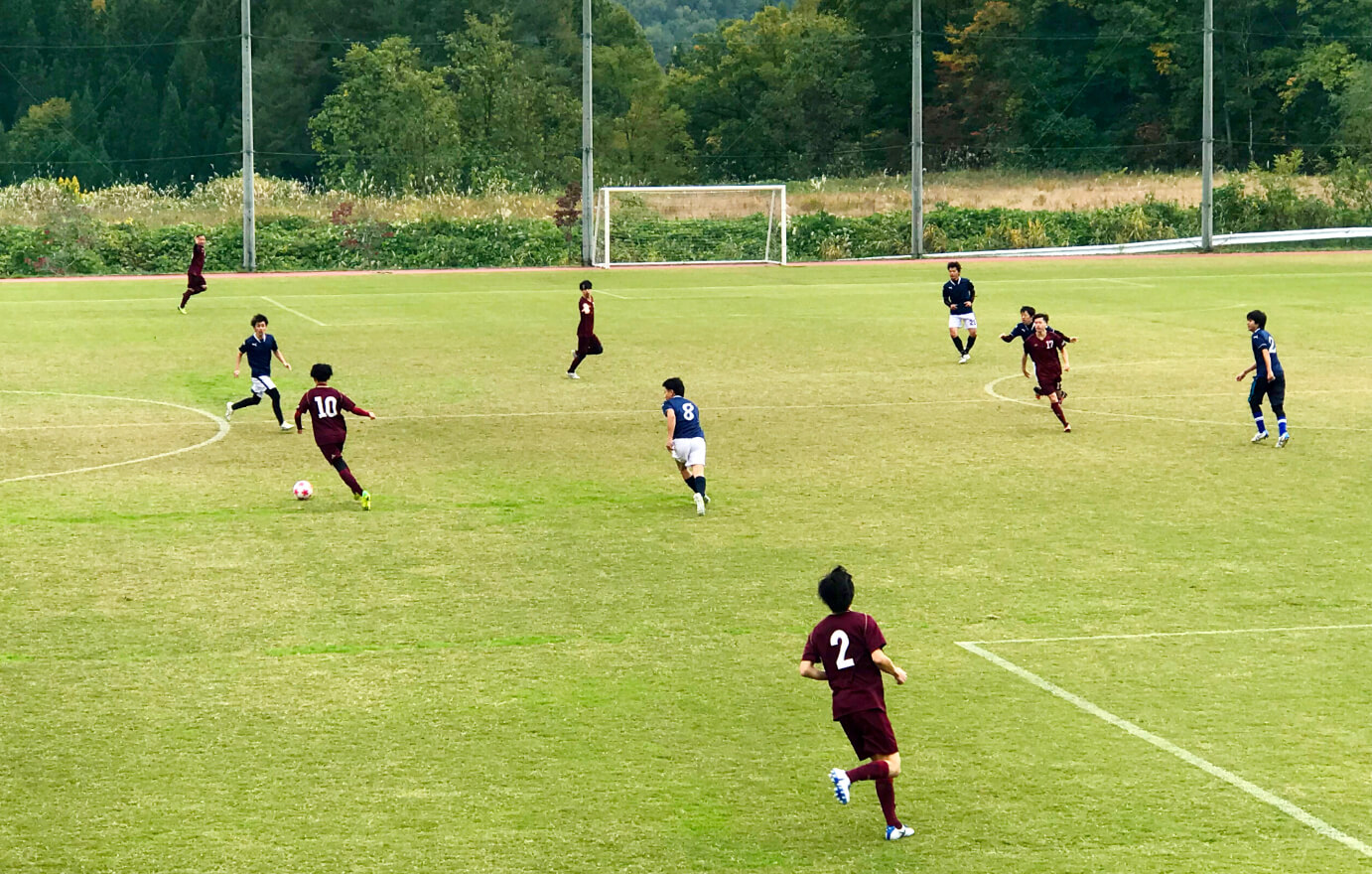 Mental health measures
We consider the maintenance of mental health essential to ensuring the happiness and well-being of employees and their families. This is a comfortable, employee-friendly space where harassment is not tolerated. We also pursue active communication in order to ensure that employees can remain in good mental health.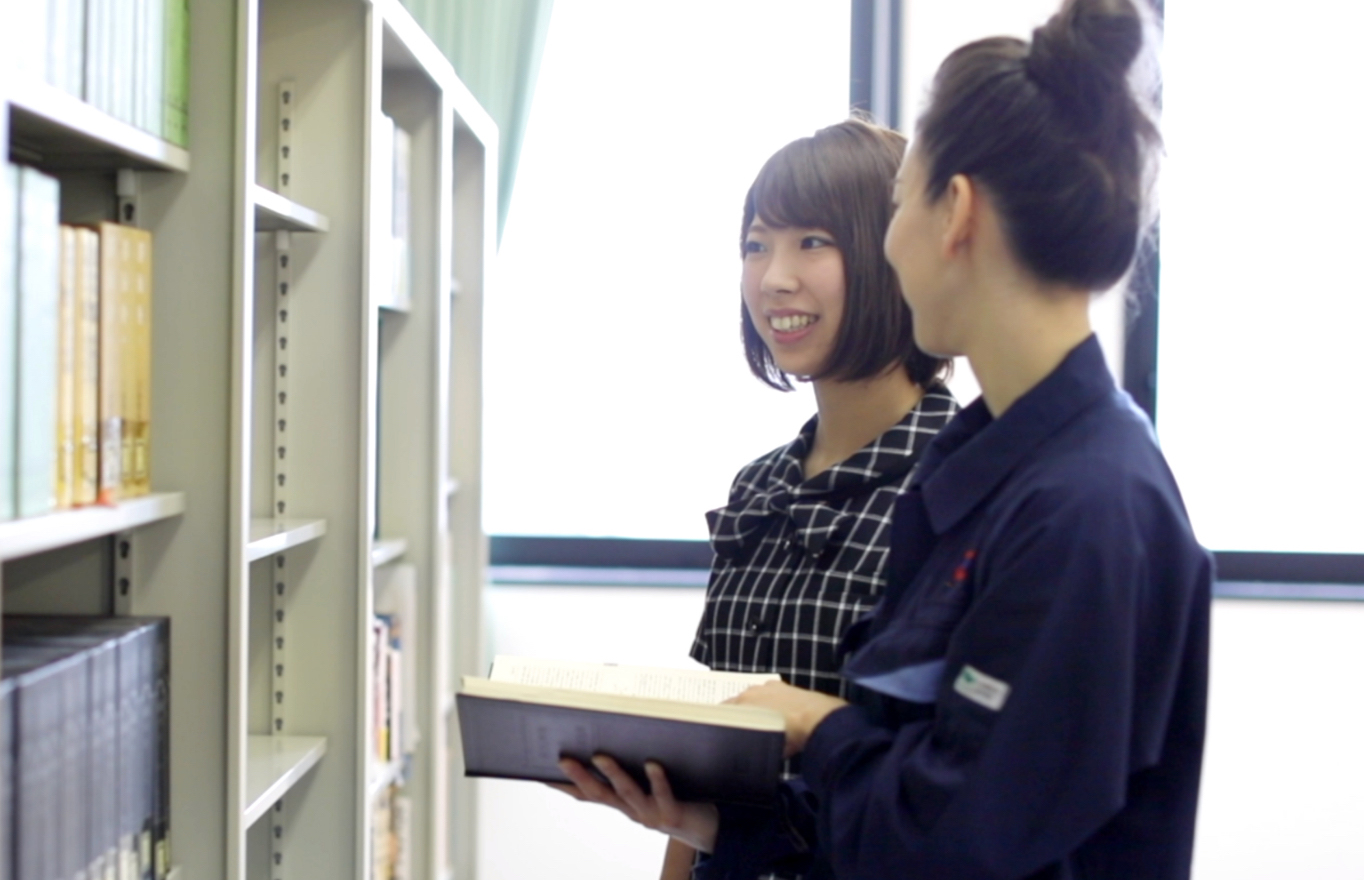 Creating an employee-friendly work environment
We emphasize a work-life balance that is tailored to employees' needs. We have implemented a range of reforms like childbirth and childcare leave, and a reduced working hours system, enabling female personnel to feel fulfillment in the workplace, and supporting the lifestyles of a diverse range of people.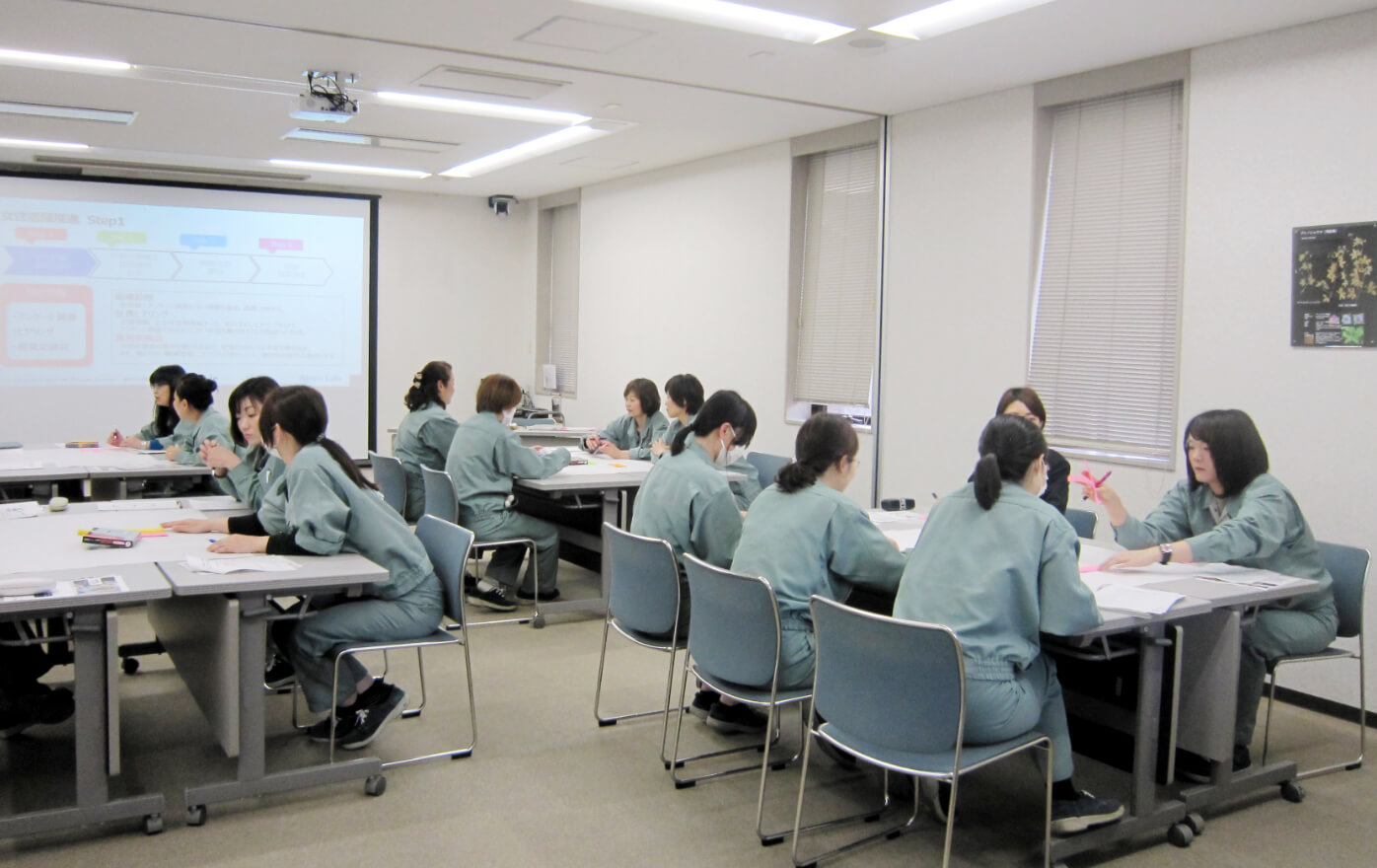 Organizational structure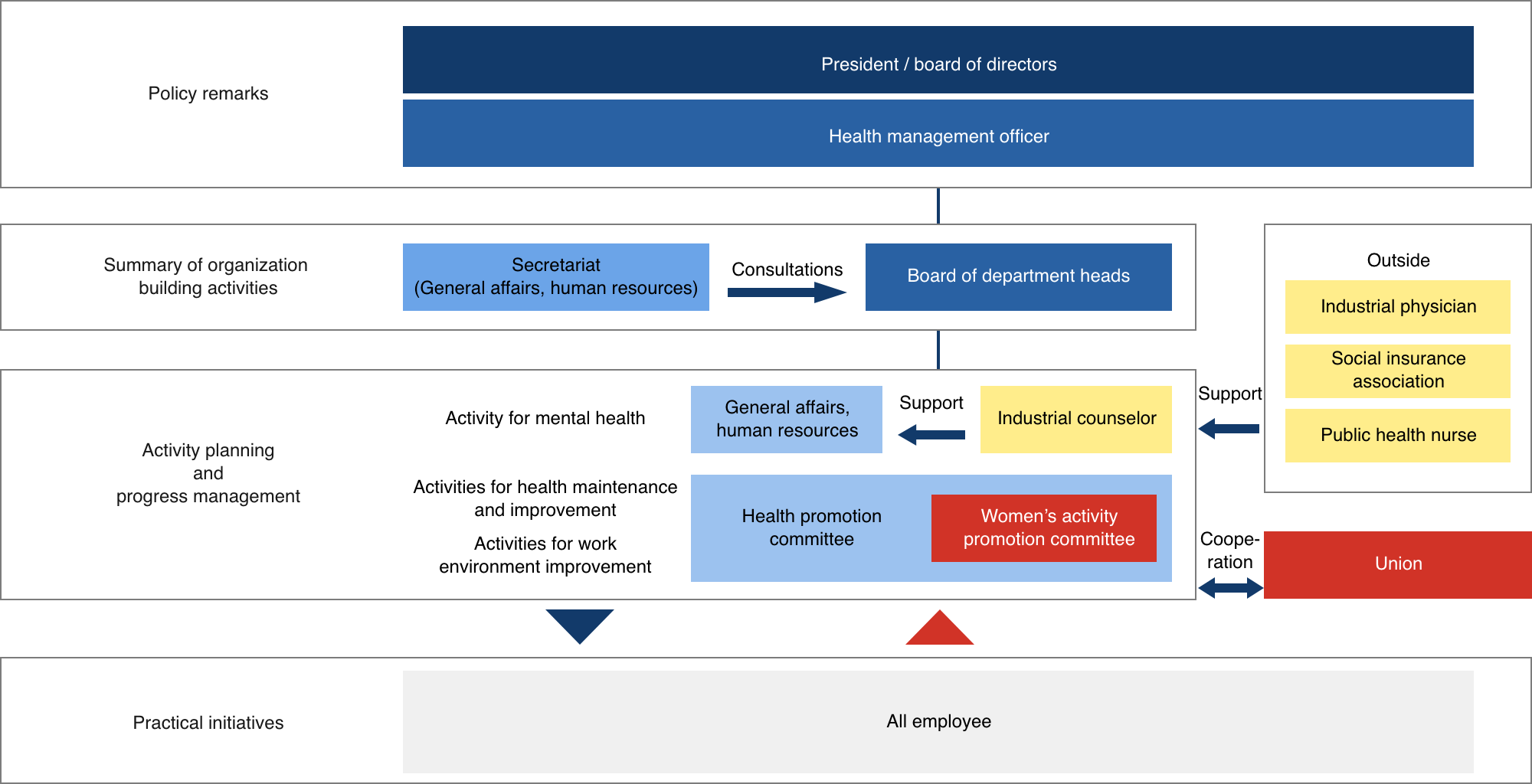 2020 health management measures and report(as of April 1, 2021)
Maintenance and preservation of good health
Efforts to maintain health

Support who go through re-examination post company's annual medical checkups

Encourage to take re-examinations and provide annual leave for it.

Provision of opportunities for implementation of specified health guidance

Conduct specific health guidance twice a year with the cooperation of medical institutions.
(16 out of 17 who were recommended to take a specific health guidance had a consultation, the rate is 94.1%)
Conduct specific health guidance for young employees eventhough who were not applicated.
(All 4 workers took the guidance, the rate is 100%)

Efforts to prevent infectious diseases

Implemented in-house flu immunization at the company's expense in full.
(The rate of employees who got flu is 0%)

Health information for families

Distribution of a letter to encourage employees' families to take health examinations from industrial doctors.

Keeping employees healthy

Financial support for mental and physical health

Provided JPY15,000 to each employee who applied for the support aiming of excercises.
(The rate is 65.8%)

Establishment of Exercise Promotion Day

Establishment of recommended days for commuting on foot and using stairs instead of elevator.

Hold an walking event

Held ALPS WALK the one month walking event for improving health.
(346 participants out of total 349 employees)
Provide sport goods coupons weekly to whom achieved higher rank.
Invited essays about the event. The best two received a brand new mountain bikes.

Supporting stop smoking measures

Non-smoking outpatient expenses will be fully subsidized for those who wish to continue receiving medical examinations during work hours.
(The system started in 2018. 19 users and 15 successful persons)
Smoking free on the premises from April 2021.
Mental health
Approaches for
Mental Health

Promothion of mental health education

Assistant manager education 1. Communication skills in August. 22 people and 100% attendance.
Assistant manager education 2. Improving communication skills 1 in September. 58 out of 59 attended. 97% attendance.
Training for Enquiry counter1 in October. 3 people and 100% attendance.
Training for Enquiry counter2 in November. 3 people and 100% attendance.
Assistant manager education 3. Improving communication skills 2 in November. 59 people and 100% attendance.

Strengthening workplace improvements based on the results of stress checks

Conducted interviews with all departmental managers based on group analysis.
Implementation of countermeasures for the departments with highly stressed.
Increased the number of questions from 57 to 80 to understand more about work place enviroments and made improvement.

Strengthening of consultation desks

Diversify of the consultation desk staff.
Continue to improve the skills of staff in charge of consultation from time to time through external courses, etc.

Review of the system

Formulate the "Health Management Manual" and reviewed and re-enforced the reinstatement support system and work-life balance support system which are subordinate systems.
Improvement of workplace
Promotion of female employees activities

Take part in the health improvement events by the Female Workers Promotion Committee.
Employee females into manufacturing work places. (Employed 3 newly highschool graduate females)

Diversity
Implementation of education for the senior workers

Training for Health and Safety for senior employees1 in August. 15 people and 100% attendance.
Training for Health and Safety for senior employees1 in October. 15 people and 100% attendance.
Promotion of diversification (employment of foreign candidates)
Began studying the reemployment system for the senior workers aged 65 and over.

Work style innovation

Establishment and implementation of a telework system.
Continuation of productivity efficiency consultants to manufacturing departments.
Promotion of work flow and other work efficiency systems to indirect departments.
Other supervisory metrics
2016
2017
2018
2019
2020
Rate of full-time employees
85.1%
85.2%
86.5%
93.1%
91.7%
Rate of full-time employee turnover
4.6%
3.6%
4.2%
2.3%
1.6%
Rate of return to work following childbirth
100.0%
100.0%
100.0%
100.0%
100.0%
Usage of extension of retirement age system
System not established
(re-employment system)
System not established
(re-employment system)
83.3%
50.0%
50.0%
Rate of regular health screenings
100.0%
100.0%
100.0%
100.0%
100.0%
Rate of stress check screenings
94.2%
100%
94.9%
98.2%
100.0%
Rate of special medical screenings
-
57.1%
68.0%
100.0%
94.1%
Rate of personnel who smoke
27.7%
26.3%
19.9%
17.5%
16.9%
Monthly overtime per capita
13.2H
10.1H
8.7H
7.9H
7.2H
Average rate of paid leave
56.1%
55.1%
73.6%
72.5%
77.8%
*Special screenings (organic solvents, specific chemicals, late-night shift workers, VDT) taken by 100% of applicable personnel
Other special medical screenings: 

Fundus screenings (age 35+), prostate cancer (men 40+)
Breast cancer (women 30+), uterine cancer (women 20+)
We are also putting effort into prevent of infectious diseases.
Prevention of Infectious Diseases
(Measures against the COVID-19)
In-house measures

Develop original countermeasure manual.
A thermometer is installed in each department to thoroughly conduct health checks and body temperature checks before starting work.
Wearing masks, regular ventilation, and sanitizing when entering the room.
Distribution of masks and disinfectant fluid to all employees and their families.
Completely eliminate common towels and replace them with paper towels.
Reduce the scale of meetings and expand remote conference facilities.
Request for cooperation in checking the health of visitors and wearing masks at entry.
Implement improvements in the use of offices and common spaces.
Secure an appropriate distance by establishing temporary offices, temporary partitions, etc.
Use of time differences in cafeterias and establishment of temporary rest areas.
Develop procedures for the deployment and implementation of sterilization equipment.
More COVID-19 Protective Acrylic Screens to be provided according to the local coordinator's suggestions.
Test the workers and their family members by PCR kits.

Regional support

Made donation to COVID-19 Countermeasure Medical Support Fund by Public and Private Project.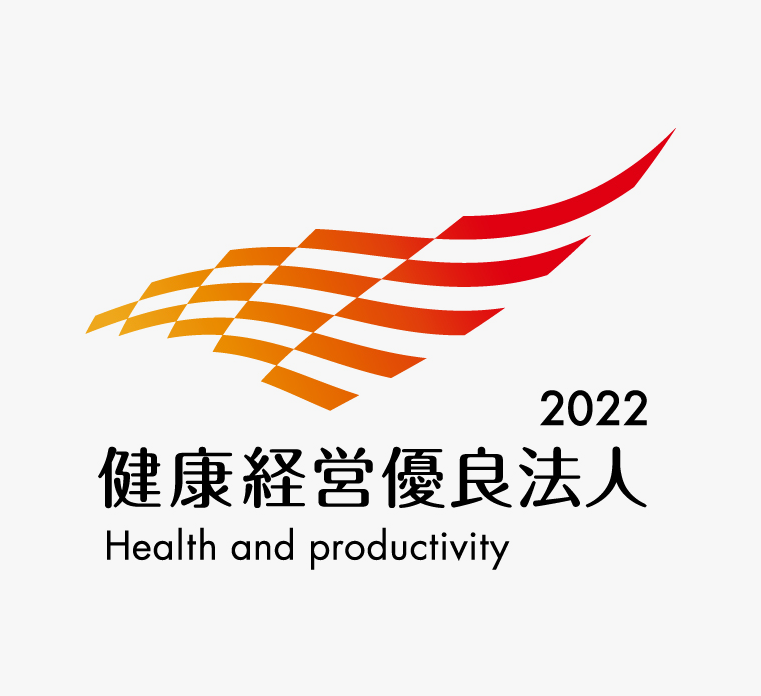 Certified as a Health and Productivity Enterprise 2021 White 500
Our company has been certified as a "Health and Productivity Enterprise 2021 (Large Corporations Division) White 500" in view of our efforts to actively improve the health of our employees and undertake good health management practices.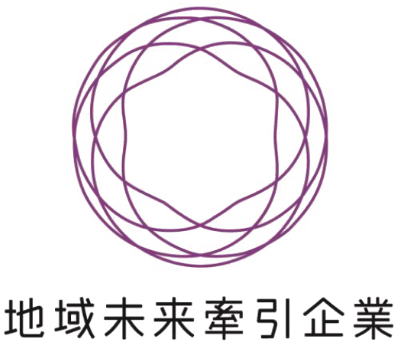 Selected as a local leader of enterprise
We were recognized as a local leader of enterprise by the Ministry of Economy, Trade and Industry for the pivotal role we play in the region and the impact we have had.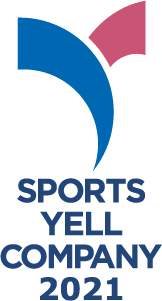 Certified as a Sports Yell Company
Our company has been certified by Japan's Sports Agency as a "Sports Yell Company" in view of our efforts to actively incorporate sports into our activities as a means to improve the health of our employees.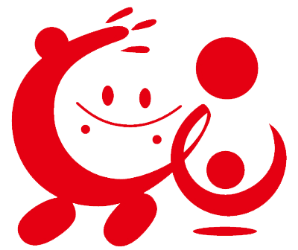 Obtained the Tomonin mark
We obtained the Tomonin certification from the Ministry of Health, Labour, and Welfare for our activities as a firm pursuing a workplace culture that ensures a balance between work and nursing care.

Certified as an excellent firm
in Gifu Prefecture pursuing work-life balance
We were recognized by Gifu Prefecture as a leading firm in terms of work-life balance.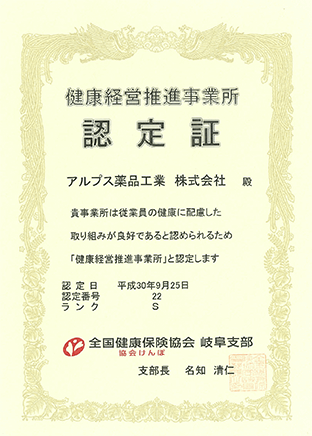 Health management office
We were recognized by the Japan Health Insurance Association for our pursuit of an employee-friendly workplace and actively promoting better health.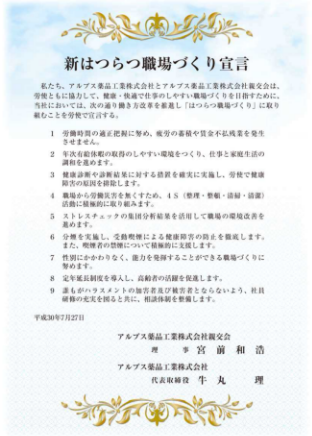 New Lively Workplace Declaration
We are promoting work-style reforms and issued a "New Lively Workplace Declaration" clarifying our commitment to make the workplace vital and vivid.